HR Fundamentals aPHR Certification Course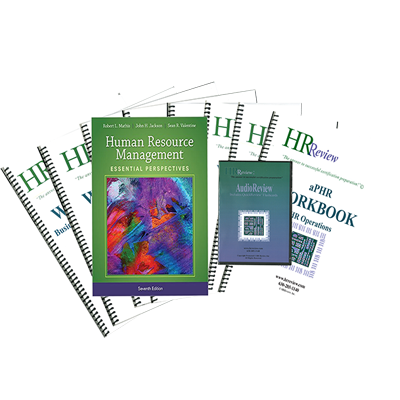 HR Fundamentals Course for aPHR – The HR Fundamentals course covers in detail each of the six functional areas of the HRCI Exam Content Outline.  The traditionally delivered 6 to 8 week format may be modified to fit your schedule.
Facilitator materials and all handouts are included with the minimum purchase of 3 participant WORKBOOK packages.
The HRReview aPHR WORKBOOK Package contains comprehensive study outlines for each of the HR Certification Institute aPHR Exam Content Outline functional areas, exam tips, important employment and labor legislation, and several hundred multiple-choice questions with detailed answers and the rationale for the correct answers.  Also included is the AudioReview CD package with recorded terms and definitions, electronic and downloadable printed flashcards, a free audio coaching session, unlimited online final exams, and 6-month access to the e-book Human Resource Management Essential Perspectives by Mathis, Jackson, and Valentine.
Contact Us For Group Pricing
Call: 630-285-1140
Email: carolyn@hrreview.com